Discover more from Indie Kids Books
Self-publishing your children's books: writing, layout and design, marketing, and more. Let's bring our books to market successfully as independent publishers.
Over 1,000 subscribers
Software & Organizations
What software programs do you need? Which organizations support your business goals?
When you start working as an indie publisher, there are inevitable computer programs that you need. As well, you should consider joining certain organizations for advantages in marketing, networking or other needs. Today, I'll talk about the software that I use. In the comments, please add programs that you consider essential.
As you read this, keep in mind, your own priorities. Weigh the membership or subscription dues against the benefits, marketing possibilities, and your inclinations.
Software
In my opinion, two programs are essential: a layout and design program and a photo-editing program. Because I can use these two programs, I've saved hundreds or thousands of dollars. If you hire an illustrator/book designer, you want to get the source files (.psd or .indd). Your illustration contract should include language that allows you to make revisions to the art as needed. That way, whenever you need a revision, it's simple.
Let's say that your book is about ready to launch, but you just got a killer endorsement that would look great on the book cover! Hurrah! Except, do you have to return to the book designer for a revised cover? Each time you want to revise—for any reason whatsoever—you must pay again, of course. They are doing extra work and deserve compensation. If you didn't get the source files, you have no other choice.
WITH the source files, you can make the minor edits yourself—if you own the programs and know how to use them.
My title, Nefertiti, the Spidernaut, is printed POD with KDP, Ingram, and Lulu. Each has slightly different requirements for covers, which means they require a different file. Then, a box subscription service was interested in including the book it in a STEM box. However, they wanted to co-brand the cover with their logo in the corner of the cover, and they wanted a slightly different size. Instead of 8.5" x 8.5", they needed 8" x 8" to fit their box. Was it possible? Yes! For that large special order, I did a special offset print run. Because I've learned Indesign and Photoshop, the production files were simple.
If I couldn't do the minor edits myself, it would have added a couple weeks and a couple hundred dollars to the revision process, cutting directly into my profits.
Invest in the future of your company by learning these programs! Pay the extra required to get the source files for your covers and interiors.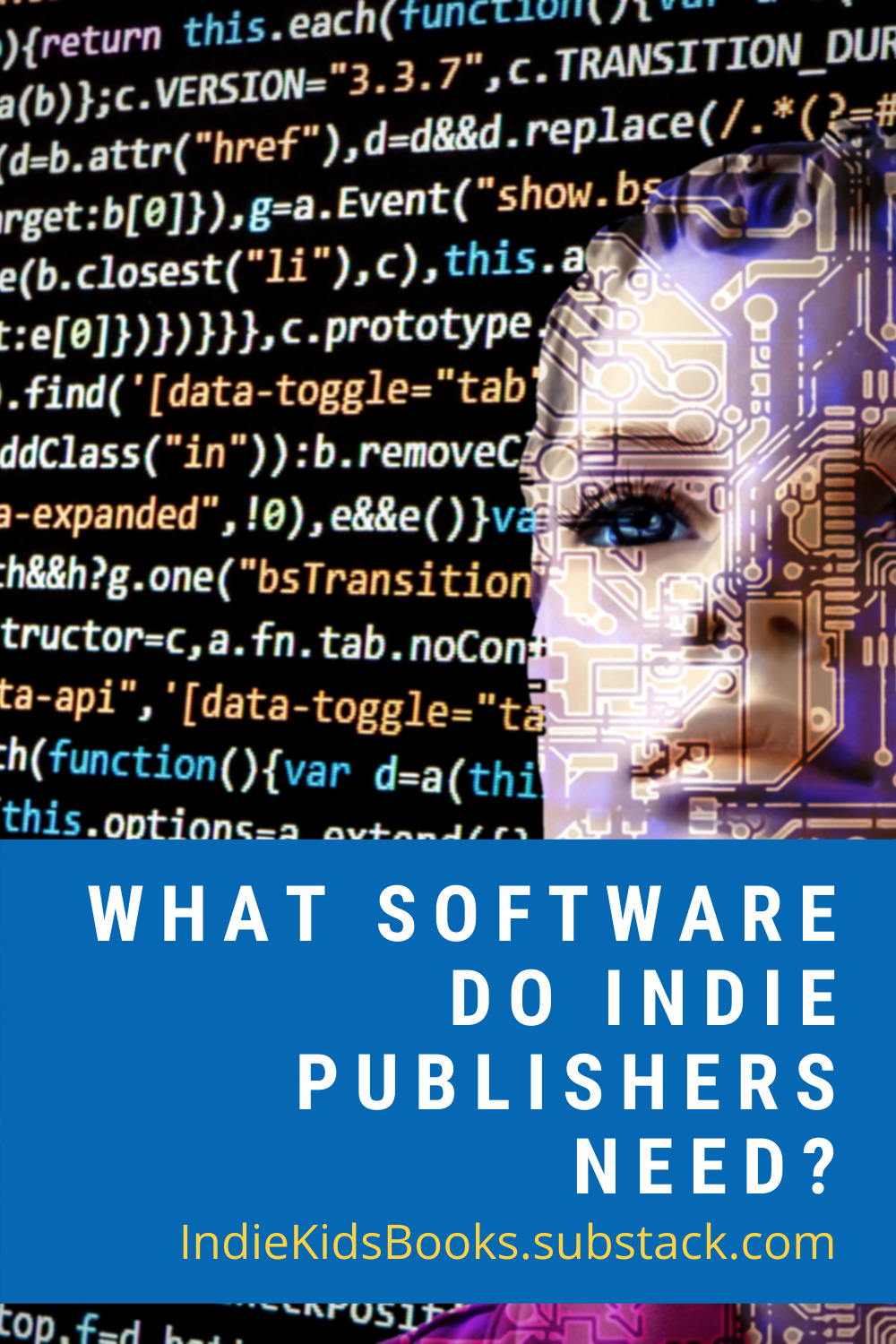 Recommended Programs
Indesign - This is the industry standard program for layout and design of books. It's amazingly powerful and versatile. However, it's only available as part of Adobe's Creative Suits subscription (at the time of this writing about $21/month; you can choose only Indesign and not the rest of the suite). In addition, its complexity means it has a steep learning curve. Plan to take classes on how to use it! I can't imagine being an indie publisher without this program.
Affinity - As an alternative to InDesign, a British company has created the Affinity programs. Publisher is comparable to InDesign, but Publisher a one-time cost of about $100.
Photoshop - Available as part of Adobe's Creative Suite. Or buy the latest standalone Photoshop Elements. Or try Affinity's standalone Photos program. You need to be able to resize photos, control quality and more.
A word about WORD, Canva, Powerpoint, and other options:
I'll probably get more pushback about recommending Indesign/Powerpoint than on anything else I recommend. I understand the problems of paying for these programs on a monthly basis, especially early in the life of your company. If that's your problem, then consider the Affinity programs of Publisher and Photos. But I consider this level of professional software to be non-negotiable for high quality children's books.
Yes, you can do layout and design in Word, Canva, Powerpoint or other programs. But the quality will generally be lower. For children's color picture books, I don't recommend it. Some of you will do it anyway, but I warned you. It's low quality.
However, if you have a novel which is just black and white text, or the addition of black and white line art, Word and similar programs can work. In that case, I suggest you get a template from BookDesignTemplates.com. Their Indesign and Word templates are great for novels and a simple place to start in learning layout and design. The standards for pagination, headers, footers, copyright pages, and much more are important so that your book looks professional. With these templates, you'll avoid major problems.
On the other hand, if you are mainly doing novels for kids, I highly recommend Vellum, a program that specializes in novel-format ebooks. Only available for a Mac, the program makes ebooks slick and easy.
For children's fixed format picture books that you intend to upload to Kindle, try the free Kindle Kids Book Creator program. I recommend this for Kindle ebooks, but it's only for Kindle. For other platforms, you'll need to create epub fixed format books. And there's no programs that I currently recommend. I hand-code these books. (See my tutorial on picture book ebooks here.) However, to validate your epub files, I highly recommend eBookFlightDeck because they will tell you exactly which line of which file has the error, making it simple to correct.
Digital Review Services:
Many authors rely on friends, street teams or other programs for providing review copies to readers who will consistently post a review.
Bookfunnel.com allows you to upload review copies that can be downloaded under controlled situations. You can use this to provide a variety of formats. Because Bookfunnel specializes in delivery of ebook files, they have bought over 100 different ebook readers. They are the experts on making sure your readers can actually access and read your book. Subscription fees will apply. If you also sell ebooks or audiobooks from your website, check out their specs for these services.
Edelweiss.com is a digital online source for sharing ARCs, and has become one of the main ways that librarians, bookstores, and bloggers find pre-publication books. They have an option for Digital Review Copies that allows you to upload one book at a time. It's expensive, so only suitable when you have a special book, or when your list has become large enough to attract widespread attention. Several of the professional organizations below offer discounts here. Edelweiss tends to be more industry focused.
NetGalley.com is another digital online source for sharing ARCs. They tend to be more public-facing, with fewer booksellers. Look for discounts from professional organizations.
Memberships
Given your business decisions such as your target market, your marketing plans, etc., do you need certain memberships?
Children's Book Council - This organization supports children's publishers with a variety of programs. Most important is their partnership with the teacher organizations to co-sponsor and to administer book awards. They currently work on the NSTA Outstanding Science Trade Books, NSSTA Notable Social Studies, Mathical Award, Children's Choice and others. You can submit without being a member, but the fees are higher for non-members. They also offer marketing programs such as Hot Off the Presses, and other opportunities to connect with the children's book world.
American Bookseller's Association, associate membership. If you plan to sell in bookstores, this is a helpful organization to join. You'll have access to membership lists, for example, a list of all bookstores who focus on children's books. They also have marketing options for ARCs and promotional materials. The White Box program sends out postcards, flyers, posters, and ARCs on a regular basis.
NCTE (English teachers), NSTA (Science teachers), NSSTA (Social studies teachers): Most teacher organizations accept associate members. You'll often get their magazines, which will help you understand your educator audience better. You'll get discounts to attend conferences.
Industry - for publishers or authors
IBPA - Independent Book Publisher's Association. This organization works to support the independent publishers, from large to small. Many benefits include discounts at Ingram, shipping and more.
SCBWI - Society of Children's Book Writers and Illustrators - To help you grow in your writing craft, the SCBWI offers many webinars, workshops, and conferences in which you can find craft topics. It's also a great place for meeting others who write for kids. They tend to focus on the traditional marketing, so they don't always understand the indie mindset. But it's still a great place for improving your craft and networking.
ALLI - The Alliance of Independent Authors supports self-published or indie authors and publishers. Their benefits include discounts at Ingram and other printers and much more.
Selling from your Website
This topic is huge and could easily be a post on its own. So, I'll just briefly mention two places, knowing that there are many other options.
Shopify Store - The Shopify platform is an ecommerce solution that allows you to sell physical books, ebooks, audiobooks, and other products from your site. Read my blog post about setting it up.
PayHip - Many people use Paypal as their standard method of taking payments. But if you want to sell products, you may want to consider Payhip. The big advantage is that Payhip will make tax payments. It keeps track of all US and international tax rates and makes it simple to sell worldwide.
Miscellaneous
I use SIGNNow.com to manage digital signatures for all my contracts, which is especially useful for long distance or international contracts
Xero.com for accounting. I've tried several accounting programs, and settled on Xero because it integrates with my Shopify store.
A Word to the Wise
And I'll end with a word to the wise: Be sure to have a list of sites/logins somewhere in case of illness!
What programs or associations to you use the most?